Time tooooo say goooooodbye
The last week of our community has come. Even though these are still seven days of volunteering, prayer and new experiences there were already some goodbyes. On Tuesday we worked for the last time together with those volunteers of the Morecambe Foodbank who are only there once a week.
Next day we had the last midday prayer and soup lunch in the Chaplaincy of Lancaster University. The prayer and the bible study after the meal were both very rich in spirituality. However it is always hard to say goodbye to amazing people who inspired you and gave you the strong feeling of being welcome.
It is kind of the same feeling as the one I had when I finished my time as volunteer in Taizé after five month. You have to say bye for quite a long time to people of whom you think you will never meet such great personalities again. What the future holds seems quiet unclear at the same moment. What's going to happen? Will I manage my studies? Is everything going to work out with the money? Will I find friends in the new place? My experiences actually taught me that there is no need to worry. In almost every new part of our life there are incredible people who laugh with and help you in your difficulties. But still …
this tiny little strange feeling in my stomach stays. In prayer I can sometimes find rest of this. It helps me to entrust myself again to God who is a God of peace.
Fortunately Wednesday was not only about goodbye, but also about seeing old friends. We went to a Taizé meeting in Manchester and met Daniela and Chrissi with whom we lived together in Taizé for some month as volunteers. They have been sent to the UK for talking about Taizé and encouraging young people to take this pilgrimage to France. What can I say about this reunion? It was joy! Pure joy of seeing close friends.
Unfortunately we missed our train afterwards and so it took pretty much time to find the next connection and get home … Probably God is not a God of chaos, but we are sometimes humans of chaos.
Next goodbye was today. It was the last time for us to work on the Claver Hill with Joy, our guide of gardening 😉 Being thankful that she welcomed us so warmly in her project we ended up in trying to make a fire. That was … more or less successful. What remains are memories of nice weeding, digging, midday prayers in a polytunnel and of course the idea of having a true connection to what you eat.
This is so far what there is to say about the last days. Enjoy these beautiful first days of spring!
-Elli-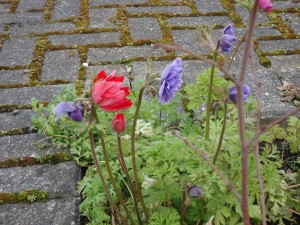 'For I know the plans I have for you, declares the Lord, plans for peace and not for disaster, to give you a future and a hope.' Jeremiah 29, 11