A weekend full of adventures :)
Huhu, how are you? We are really fine 🙂
I want to tell you something about our second weekend here in Halton! On Saturday we took a day trip to Windermere, it's England's largest lake, in the heart of the Lake District.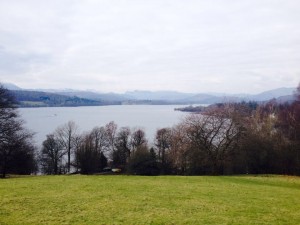 It was quite an adventure – we cut across the fields, got over fences and jumped over undergrowth, just to go along the lake, because of course it's too boring for us German girls to go next to the road. 😛  Our efforts were worth it – the views of mountain scenery, wooded spaces and over the lake were amazing and we enjoyed this wonderful time in the nature.
On Sunday we went for the mass to the Cathedral Church of St Peter, which already impressed us when we had been there just for visiting. In the afternoon six girls (12-15years old) arrived from the YRC in Halton. We watched the 'Life at Taizé' video – we were really touched and had immediately in our mind 'We have to go there… right now!' and wallowed in memories. After dinner we had a discussion about trust. Whom we trust the most? What is trust for us? Can we trust everybody? There is no exact definition of trust and everyone has their own associations. In my opinion the most important thing is trusting to your family and friends. But what's about God? He invites us to be part of a huge trusting world. He will reach out to each of us! 'Christ of compassion. Lord God, I trust you.' (In te confido, Taizé)
Camilla 🙂
P.S. Greeting to my graceful family and all of my lovely friends, thank you for our open and trusting relation.
'But I trust your unfailing love; my heart rejoices in your salvation.' Psalm 13,5