Part Two
So … here is the second half of our first week in Halton.
On Thursday e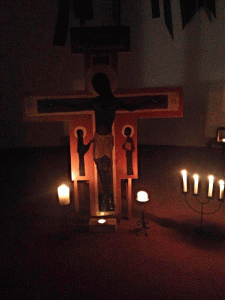 vening we prayed again in the chapel of Lancaster University and participated in a 'faith sharing' there which was so rich because of it's diversity. There where people of different christian churches and also buddhists and muslims. We talked about how faith influences our prayer just as daily life. Afterwards we had the chance to talk to some of these persons and gave them a hint of our Wednesday middayprayer 😉
Friday: We made our way to the Food Bank in a nearby town. There we were warmly welcomed by the people working there. They showed us the place and we could start sorting foodboxes for the people who would come in the afternoon. Then we ate lunch with everybody and prayed on the balcony over the food stock. That was a very new experience. There wa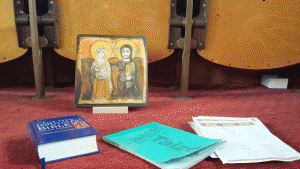 s not a lot of space because of all the fixed benches around and below the people kept on working, so we were the only ones being silent.
In the afternoon Lisa and Camilla went to the house for people in social need while Elli was staying in the Food Bank to help there.
Back in Halton we welcomed three vistors from the Carrs Lane Lived Community in Birmingham who stayed with us for the weekend. We had a very nice meal together and good conversations followed by friday evening prayer.
Saturday started with morning prayer and breakfast. During the day we cooked and baked together and shared our thoughts about the proposals from Taizé for 2016. It was beautiful having the house full people which made the community very lively.
After having a delicious breakfast we went to the United Reformed Church for Sunday service. For the three of us this was quiet different from what we are used to in our churches at home.
The rest of the day passed by just as Sundays usually do …
This was our summary of the last week. From now on we try to upload a post every other day 🙂
'Surely I am with you always, to the very end of the age.' Mtth. 28:20