Hospitality III
Breaking bread
When Jesus visited Martha and Mary, Martha was aware that the body isn't nourished by the Spirit alone and that 'someone here has got to do the cooking' for the hungry travellers. Unfortunately, it isn't enjoyable to stay with a resentful and tired hostess. My solution would probably have been to divide the tasks between everybody or invite them to talk around the hearth, so that the cook would feel like they are at the centre of events. Perhaps I would have invited the neighbours round to hear Jesus teach, but asked them to bring a dish each to share. I like to invite people to visit at mealtimes, and I don't let the lack of advance preparations stop me.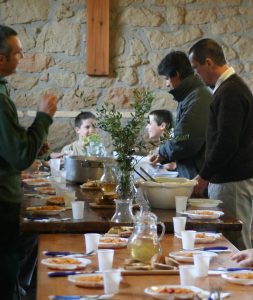 Sunday lunch in Vallechiara,
a monastery which we visited
in Italy in 2007.
At the Lunesdale Community we arrange potluck dinners with the ecumenical study group, because breaking bread together brings people closer together and makes the occasion more special. Another reason of a more practical nature is that rustling up a meal when rushing in from work would be difficult. Whenever several people gather like this, a festive meal is brought into being. The value of the occasion lies possibly in the encounter, a moment of beauty which is made more special perhaps by the lighting of candles, saying grace and lingering at the table. That means staying still and immersing oneself in the conversation, even if that results in forgetting to offer any coffee after.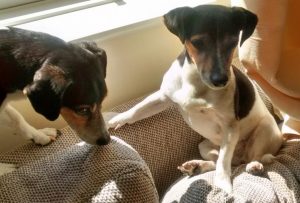 How difficult it seems to clear space in life (and make compromises) for lingering! All sorts of projects on top of paid work take up time – not to mention the children, the dogs and the poor husband who often gets neglected.