Why are potatoes green?
Some of you might know the answer to the question above. However, I didn't when Joy, the founder of the Claver Hill asked us while looking at her huge garden. We met her on Wednesday morning for visiting the place where we are going to volunteer on Mondays and Thursdays. What we saw and what she told us was incredibly inspiring. She had put everything she had into a piece of land to make h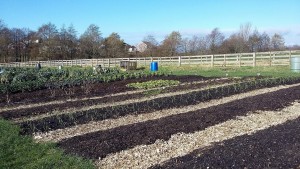 er vision of garden that is planted by everybody who wishes to help come true. In exchange for this the people learn how to plant vegetables, fruit trees and flowers and they can take things home for free. The rest is sold for covering the costs of the project.
As we live in a world where many people are separated from the production of what they eat, this idea of a community garden holds firm to older traditions of being able to care for your own food. And this might be important for the future.
In one part of her garden Joy has started something she calls 'Treasure from Trash'. What you can see there is lots of old stuff like washing up sinks, buckets, bottles and many more. All these things have been given a new meaning by planting mainly herbs in it. It reminded me a bit of the place Wanagi Tacanku in Taizé which was open last summer 🙂 Places for re – and upcycling are just amazing!
When we were talking to Joy I realized that there was a lot to learn for me and that this volunteering will be one of the most fruitful works I ever did. Even though I grew up in a small village where we had a garden with carrots, potatoes and many other things, there are many things I need and want to understand about planting. Luckily the three of us get the chance here in Lancaster.
By the way: Potatoes turn green when they get too much light 😉
As the idea of sowing and harvesting has existed for thousands of years, I hope that the work on the Claver Hill might draw us near to the routes of our food and our life.
-Elli-
'Sow to yourselves in righteousness, reap in mercy; break up your fallow ground: for it is time to seek the LORD, till he come and rain righteousness upon you.' Hosea 10:12